20' Fisher Hamilton Laboratory Furniture Cabinet Island w/ Epoxy Counter Tops
20' Fisher Hamilton Laboratory Furniture Cabinet Island w/ Epoxy Counter Tops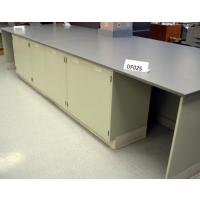 Call Kyle For Details! - (815) 670-6400
20' Fisher Hamilton Laboratory Furniture Cabinet Island with Epoxy Counter Tops
About These Cabinets:
We are pleased to offer these great condition Laboratory Cabinets by Fisher Hamilton.
We have a multitude of these cabinets in stock and ready to ship.
They are Fisher Hamilton Brand.
The Counter Tops that are Included are an Epoxy Resin Top.
All the cabinets were recently removed from clean rooms in a food processing facility.
We have multiple groupings of these same cabinets, please view our other listings in our eBay Store.
Because of Lighting, our
camera had issues capturing still images that convey the cabinets true colors.
The Color of these Cabinets can best be viewed via the video below.

Because of our large inventory of these cabinets we can cater to any specifications that you may need.
Please Contact Kyle with All Questions @ 815 / 670 - 6400
All Cabinets are 36" Tall x 21-1/2" Deep.
Dimensions Below Are for Cabinet Widths.
Cabinets Included, Pictured left to right:
1.) 21-1/2" End Piece
2.) 42" Pencil Desk
3.) 42" Back Filler Panel
4.) 20" End Piece
5.) 38-3/4" 2 Drawer Pencil Desk
6.) 38-3/4" Back Filler Panel
7.) 20" End Piece
8.) 20" End Piece
9.) 38-3/4" 2 Drawer Pencil Desk
10.) 38-3/4" Back Filler Panel
11.)20-1/2" End Piece
12.) 42" 2 Drawer Pencil Desk
13.) 42" Back Filler Panel
14.) 21-1/2" End Piece
15.) 14-3/4" Spacer
16.) 21-1/2" End Piece
17.) 29" Desk Space
18.) 36" 2 Door
19.) 48" 2 Door
20.) 36" 2 Door
21.) 29" Desk Space
22.) 21-1/2" End Piece
23.) 14-3/4" Spacer
Call Kyle With Any Questions @
815 670 6400
STOCK #: DF025
We Accept all REAL Offers.

If You Have Any Questions
Call Kyle @ 815 670 6400
About National Laboratory Sales
Whether you're building a new Lab or upgrading your existing one, you'll find a remarkable selection of Casework, Workstations, Fume Hoods and related lab products. Most of our items can be shipped quickly in most cases less than a week.
Our custom design service will suit the most discriminating buyer. Our wide range of choices, solid construction and high-quality finishes allow you to design and create the perfect lab.
We are a Chicago area company with over 10 year's experience. Our mission is simple – we are dedicated to providing our clients with personalized service and innovative design solutions using premiere products. With our accessible 30,000 sq ft warehouse west of Chicago, we are one of a select number of firms that offer a one-stop experience to clients for quick ship custom lab casework and fume hoods. We carry only the highest quality manufacturers with the widest range of styles. Our experienced lab design specialists are personally available at every stage of your project, from the initial consultation, through the design phase, all the way to the selection of products.