6' Fisher Hamilton P-Frame Laboratory Cabinet Island w/ Cabinets
6' Fisher Hamilton P-Frame Laboratory Cabinet Island w/ Cabinets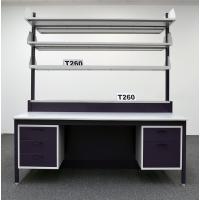 Call Kyle For Details! - (800) 598-5365
6' Fisher Hamilton P-Frame Laboratory Island w/ Adjustable Height Counter Top
About The Laboratory Island:
Exterior Dimensions:
Width: 75.5"
Depth: 73"
Height: 84"
Work Area 1 (Fixed Height) Dimensions:
Width: 75.5"
Depth: 30"
Height: 30"
Work Area 2 (Adjustable Height) Dimensions:
Width: 75.5"
Depth: 30"
Height: 30"-36"
(Infinately Adjustable)Center Top Dimensions:
Width: 74"
Depth: 12"
Shelf Dimensions:
(2) Lower Shelves: 8"
(2) Middle Shelves: 12"
(2) Upper Shelves: 18"
Cabinets Dimensions:
(1) 36" Wide 6 Drawer Cabinet
(1) 36" Wide 2 Drawer / 2 Door Cabinet
(1) 18" Wide 2 Drawer Cabinet
(1) 18" Wide 3 Drawer Cabinet
•Counter Tops Are Epoxy ResinP
•Steel shelving is height adjustable in 1" increments
•Service chases are equipped with full width access panels.
•Panels can be removed without tools for instant access to service lines.
•P-Frame components are finished with a durable, chemical-resistant powder coat finish.
Call Kyle With Any Questions @ (815) 670 6400
STOCK #: T260
WE WILL HELP WITH SHIPPING.
THERE IS NO EXTRA CHARGE FOR PREPPING OR LOADING.
We make every effort to accurately describe each item we sell and to give buyers the information needed to bid with confidence.
We Accept ALL REAL Offers!
??? Questions ???Call Kyle (815) 670-6400
About National Laboratory SalesWhether you're building a new Lab or upgrading your existing one, you'll find a remarkable selection of Casework, Workstations, Fume Hoods and related lab products. Most of our items can be shipped quickly in most cases less than a week.Our custom design service will suit the most discriminating buyer. Our wide range of choices, solid construction and high-quality finishes allow you to design and create the perfect lab.We are a Chicago area company with over 10 year's experience. Our mission is simple - we are dedicated to providing our clients with personalized service and innovative design solutions using premiere products. With our accessible 30,000 sq ft warehouse west of Chicago, we are one of a select number of firms that offer a one-stop experience to clients for quick ship custom lab casework and fume hoods. We carry only the highest quality manufacturers with the widest range of styles. Our experienced lab design specialists are personally available at every stage of your project, from the initial consultation, through the design phase, all the way to the selection of products.