3' Kewaunee Chemical Laboratory Fume Hood (H505)
3' Kewaunee Chemical Laboratory Fume Hood (H505)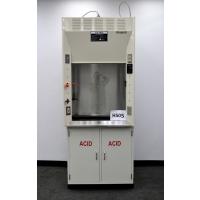 Call Kyle For Details! - (815) 670-6400
3' Kewaunee Chemical Laboratory Fume Hood (H505)
About The Fume Hood:
We are pleased to offer this great condition Kewaunee Laboratory Fume Hood.
Dimensions below:
Fume Hood Exterior Dimensions:
Width: 36"
Depth: 36"
Height: 54" and 90" with cabinet
Work Area (Interior) Dimensions:
Width: 28 1/2"
Depth: 28 1/2"
Height: 48"
Fume Hood Accessories:
1 Monitor
Light on/off Switch
4 AC Power Plug
1 Air Valve
1 Nitrogen Valve
1 Vertical Sliding Sash Door
Call Kyle With Any Questions @ (815) 670 6400
STOCK #: H505
WE WILL HELP WITH SHIPPING.
THERE IS NO EXTRA CHARGE FOR PREPPING OR LOADING.
We make every effort to accurately describe each item we sell and to give buyers the information needed to bid with confidence.
We Accept ALL REAL Offers!
??? Questions ???
Call Kyle (815) 670-6400